Civic Engagement, Young Adult Activism, and the 2018 Midterm Elections: The View from Great Lakes States
---
10/11/2018
By Carrie L. Davis, Director, Democracy Program

A new poll from Public Religion Research Institute (PRRI) and The Atlantic explores how Americans feel about the state of the country, our ability to bridge political divides to solve problems, and willingness to engage in civic life – including voting in the November midterm elections.

While it's no surprise that many Americans are feeling less than optimistic, there are some encouraging signs in the data– especially in the Great Lakes region. So, whether you're a glass half-full or half-empty person, let's take a look at what's in that half a glass.
Let's get the gloomy stuff out of the way first.
When thinking about what is going on in the country today, 69% of Americans report they generally feel a negative emotion, such as feeling angry, sad, or fearful.
62% are pessimistic that Americans who hold different political views can come together to solve the country's problems, compared to 36% who feel optimistic that we can.
72% of Americans say they often feel like they need a break from the news.
Source: PRRI/The Atlantic 2018 Civic Engagement Survey
Now let's balance things out with some more encouraging news from the Great Lakes region.
Likelihood of voting is markedly higher in the Great Lakes than in the rest of the country – especially with the next generation of young voters.
This close to the election, everyone is trying to predict voter turnout. According to the PRRI poll, 55% of Americans say they are "absolutely certain" to vote and 16% say they will probably vote.
Historically, older Americans turn out to vote in higher numbers than younger voters, and the poll indicates that's likely to be the case this year too – with 81% of seniors (age 65+) and 35% of young voters (age 18-29) saying they are absolutely certain to vote.
Here in the Great Lakes states, though, those numbers are higher – especially for young voters.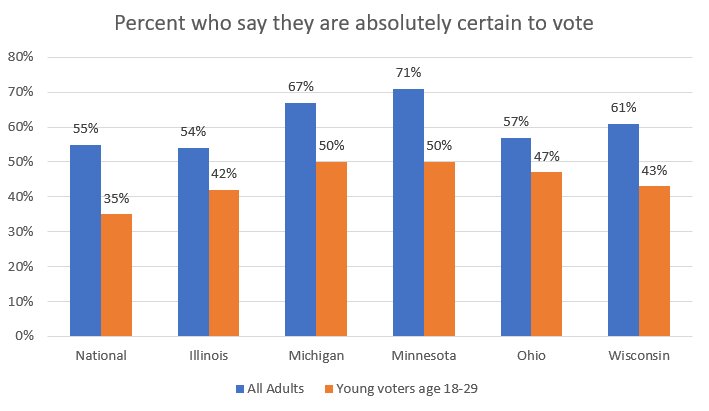 Young voters in the Great Lakes states appear to be more motivated to turn out this election than the national average. And if they do turn out in these numbers, it would be historic.

Encouragement to be politically active makes a big difference.
One of the more exciting findings of the poll is that encouragement from others has a big impact on civic and political engagement. Individuals who were encouraged to be active were two to three times more likely to participate than those who weren't encouraged.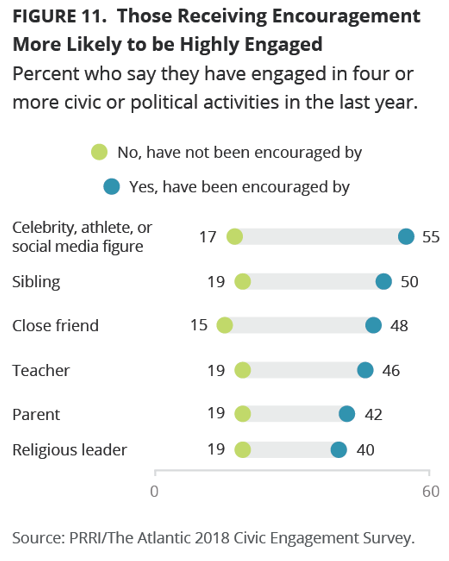 The highest impact comes from so-called social influencers, such as celebrities and athletes, whose encouragement more than triples participation. For example, a recent Instagram post by Taylor Swift caused a massive spike in voter registration, when 65,000 people registered via Vote.org in a 24-hour period. Close to 5,000 voters registered at March For Our Lives rallies held in March, and the March For Our Lives group partnered with actors from The Avengers on this new video aimed at encouraging first-time voters.

Interestingly, encouragement from anyone yields increased participation. As the chart above shows, encouragement from family and friends, as well as teachers and faith leaders, more than doubles the likelihood someone will be civically engaged.
So, whoever you are, be sure to use the remaining days before November 6 to encourage people in your social circle to participate in this election.
More people see local, not national, involvement as a way to make change.
The poll revealed considerably more optimism – nationally and in the Great Lakes – about being able to overcome political differences to solve problems at the community level.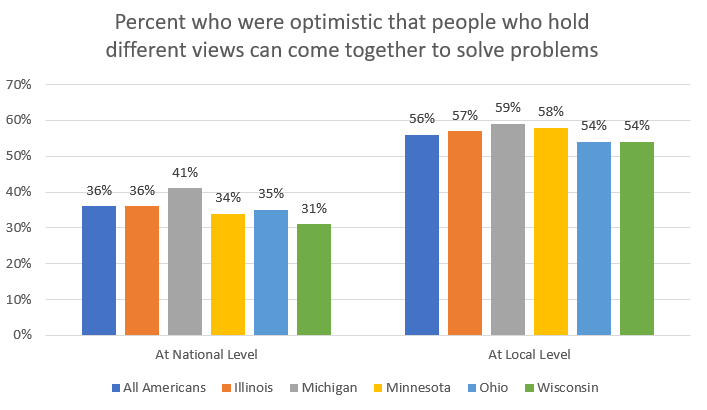 This is a good thing for several reasons. For one thing, it's easier – more accessible, less intimidating – to get involved locally in the community you know.

At a time when people are feeling pessimistic about national politics, know that you can start changing things locally – which can add up to bigger change. Pick an issue you care about in your neighborhood, grab some friends, and go do something about it.
What else was interesting in the Great Lakes?
The poll revealed strong interest in a variety of issues, which may give clues to how Great Lakes states may vote this election - given that many of these issues have figured prominently in candidate and ballot issue races.
Strong support for fair elections is one of them.
A majority of voters say gerrymandering is a problem.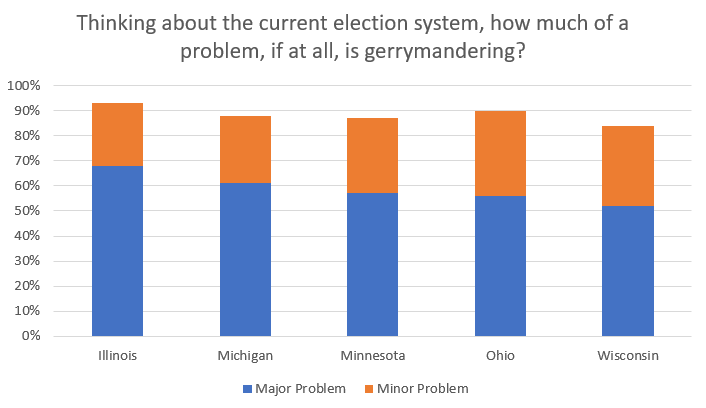 We saw a sharp increase over the past three months in the number of people who say outside interference or influence from foreign governments is a major problem. Illinois increased from 47% to 57%, Michigan 39% to 52%, Minnesota 44% to 54%, Ohio 39% to 55%, and Wisconsin 41% to 48%.
The data revealed a similar increase in the number of residents who view removing eligible voters from voter registration lists as a major problem. After the Supreme Court upheld Ohio's controversial voter purge process in June, voting rights scholars and advocates warned of the growing use of voter purges. Voter advocates are urging would-be voters to #CheckYourReg before you go vote to make sure it's current.
Finally, these are the issues Great Lakes residents view as most important.
Health care - Ohio (63%), Illinois (60%), Michigan (60%), Wisconsin (60%), Minnesota (58%).
Immigration - Ohio (47%), Illinois (41%), Michigan (45%), Wisconsin (47%), and Minnesota (45%).
Gun policy – Ohio (42%), Illinois (45%), Michigan (39%), Wisconsin (46%), Minnesota (46%)
Climate change – Ohio (34%), Illinois (37%), Michigan (35%), Wisconsin (34%), Minnesota (40%)