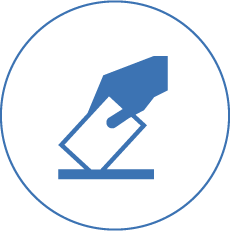 Building a more equitable democracy by striving for participation and representation of all people who call the Great Lakes home.
The information on this page has been updated to reflect our 2021-2025 grant making approach.
Our democracy has faced numerous threats in recent years, from voter suppression and gerrymandering to targeted disinformation and related efforts to undermine public confidence in elections and government. Election administration is inconsistently funded, and voter experiences vary widely from zip code to zip code. In addition, a long-overdue national reckoning with systemic racism compels us to examine the ways in which government processes exclude rather than include all residents.
The results of these and many other such actions are unequal and unfair representation, disenfranchisement predominantly of communities of color and young voters, reduced voter participation in local or mid-term elections, increasingly toxic levels of partisanship, and crippling mistrust of government. Through a combination of research, policy development, litigation and public engagement efforts, the Joyce Foundation will invest in policy change to protect and expand voting rights, fair representation, and ensuring census data accurately reflects all of our communities.

Voting Rights and Elections
Protecting voting rights and well-run elections are the very heart of a functioning democracy. Elections should be free, fair, accessible, and trusted. Yet, far too often, our elections fall short of that aspiration.
Policies related to the ease or difficulty of registering to vote and accessible options for casting a ballot impact turnout. Voters' experiences vary widely by zip code—some communities face polling place closures and long lines, while others have new top-of-the-line technology and an abundance of voting options. Voter suppression and disinformation efforts erode trust that elections are fair and accurate. This focus area seeks to increase participation in our democracy by all voters - especially voters of color and young voters.

Goal
Election systems rooted in fairness, equitable access and accuracy.

---
Objectives
Protecting and expanding voting rights, access to the vote, and promoting tested elections best practices.

This initiative includes support for proactive efforts to improve voter access, such as adoption of automatic and same-day voter registration, improve access and efficiency of options to vote before and on Election Day. It also includes defending against efforts to intentionally or unintentionally make it harder to vote, such as voter purges that remove eligible voters from voter rolls. Finally, this initiative includes support for development and adoption of election administration best practices.

Support research and policy solutions to remedy voting barriers that are a product of systemic racism or have discriminatory impact.

There are voting policies and practices that appear neutral on their face but have disparate impact or originated from efforts to bar voting by certain racial groups. This initiative includes efforts to revitalize and strengthen the Voting Rights Act, as well as to explore the development or expansion of other racial equity-focused voting policy, such as addressing how racial disparities in the criminal justice system have historically been tied to voter disenfranchisement policies.




Fair Representation
A true representative democracy will not be realized until the rules and structures for determining representation are reconfigured to redistribute power to the entire electorate, so that communities choose who represents them. As such, the Foundation invests in redistricting reform to remedy the severe gerrymandering prevalent in Great Lakes states and to identify solutions to other laws that undermine voters' ability to determine who represents them.
Goal
Representation is determined by the electorate in a fair, transparent, and accountable process.
---
Objectives
Support adoption and implementation of fair redistricting policies and practices within the Great Lakes states.

We will support proactive efforts to achieve reform, as well as implementation in states that have adopted redistricting reform to help them run effectively and to learn from their experiences. We will also support defensive work to push back against gerrymandering and other efforts to draw districts behind closed doors.

Identify, assess, and recommend reforms for other laws or policies that undermine voters' ability to determine who represents them.

Redistricting is only one component of representation. There are other structures that stand in the way of voters truly getting to choose who represents them, such as poorly conceived term limits and the Electoral College. This initiative will reach beyond redistricting to assess what other structures undermine voter choice and determine the best ways to correct the problems.
Census Data Accuracy
The 2020 decennial census experienced multiple complex problems that impacted census operations and, ultimately, appear to have impacted the quality of census data. The impact of the COVID-19 pandemic on Census Bureau operations and timeline, displacement or limited access to certain populations, cancellation of quality control tests, reports of inadequate staffing, first-time use of online and phone response options, and controversial executive policy decisions resulting in litigation all disrupted a process that is typically planned and tested down to the smallest detail.
Following 2020, census experts will need to conduct a data quality assessment to determine how flawed the final census data is and where it is flawed, law and policy experts will need to determine possible options for remedial action, and the field will need to learn from this experience to avoid (or at least better plan for) such problems in the future.

Goal
Assess the impact of multiple complex problems on the accuracy of the 2020 decennial census, support corrective action as needed, and recommend policy improvements for future censuses.
---
Objectives
Assess the impact of multiple complex problems on 2020 decennial census data quality, including the extent of any inaccuracies overall and with respect to specific subpopulations.

Support corrective action to remedy census data integrity and alternative options if census data are too flawed for certain uses.

Recommend policy improvements for future censuses gleaned from assessment of the 2020 census.